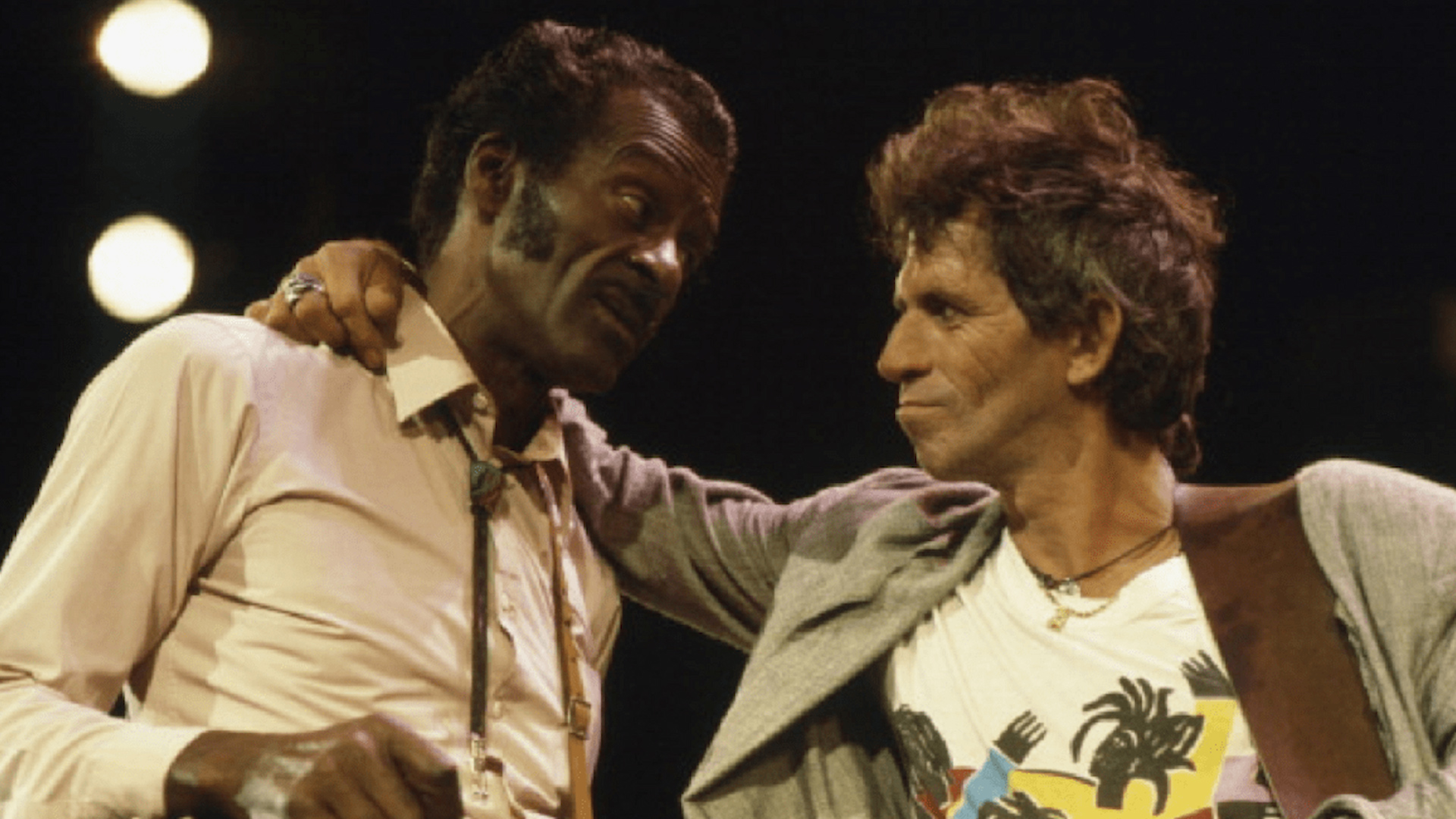 Chuck Berry's music has transcended generations. He earns respect to this day because he is truly an entertainer. Berry, also known as "The Father of Rock & Roll," gained success by watching the audience's reaction and playing accordingly, putting his listeners' amusement above all else. For this reason, tunes like "Johnny B. Goode," "Maybellene" and "Memphis" have become anthems to an integrated American youth and popular culture. Berry is a musical icon who established rock and roll as a musical form and brought the worlds of black and white together in song. Born in St. Louis on October 18, 1926 Berry had many influences on his life that shaped his musical style. He emulated the smooth vocal clarity of his idol, Nat King Cole, while playing blues songs from bands like Muddy Waters. For his first stage performance, Berry chose to sing a Jay McShann song called "Confessin' the Blues." It was at his high school's student musical performance, when the blues was well-liked but not considered appropriate for such an event. He got a thunderous applause for his daring choice, and from then on, Berry had to be onstage.
GUITAR LESSONS
Berry took up the guitar after that, inspired by his partner in the school production. He found that if he learned rhythm changes and blues chords, he could play most of the popular songs on the radio at the time. His friend, Ira Harris, showed him techniques on the guitar that would become the foundation of Berry's original sound. Then in 1952, he began playing guitar and singing in a club band whose song list ranged from blues to ballads to calypso to country. Berry was becoming an accomplished showman, incorporating gestures and facial expressions to go with the lyrics.
It was in 1953 that Chuck Berry joined the Sir John's Trio (eventually renamed the Chuck Berry Combo), which played the popular Cosmopolitan Club in St. Louis. Country-western music was big at the time, so Berry decided to use some of the riffs and create his own unique hillbilly sound. The black audience thought he was crazy at first, but couldn't resist trying to dance along with it. Since country was popular with white people, they began to come to the shows, and the audience was at some points almost 40 percent white. Berry's stage show antics were getting attention, but the other band members did their parts as well. In his own words: "I would slur my strings to make a passage that Johnnie (Johnson) could not produce with piano keys but the answer would be so close that he would get a tremendous ovation. His answer would sound similar to some that Jerry Lee Lewis's fingers later began to flay."
SOME GOOD ADVICE
Later in 1955, Berry went on a road trip to Chicago, where he chanced upon a club where his idol, Muddy Waters, was performing. He arrived late and only heard the last song, but when it was over he got the attention of Waters and asked him who to see about making a record. Waters replied, "Yeah, Leonard Chess. Yeah, Chess Records over on Forty-seventh and Cottage." Berry went there on Monday and discovered it was a blues label where greats like Howlin' Wolf and Bo Diddley recorded. He didn't have any tapes to show, but Chess was willing to listen if he brought some back from St. Louis. So Berry went home and recorded some originals, including the would-be "Maybellene," then called "Ida May," and drove back to Chicago later that week to audition. Much to Berry's surprise, it was that hillbilly number that caught Chess' attention. Berry was signed to Chess Records and in the summer of 1955, "Maybellene" reached #5 on the Pop Charts and #1 on the R&B Charts. Through Chuck Berry, Chess Records moved from the R&B genre into the mainstream and Berry himself was on his way to stardom.
THE REST IS HISTORY
Berry continued his success with such hits as "Brown-Eyed Man," "Too Much Monkey Business," "Memphis," "Roll Over, Beethoven!" and "Johnny B. Goode." "Johnny B. Goode" is Berry's masterpiece, as it brought together all the elements of Berry's unique musical sound. It cemented his place in rock history and led to fame in the 1950s. His popularity garnered him television and movie appearances and he toured frequently.
Berry's incredible success is due to his ability to articulate the concerns and attitudes of his audience in his music. At the height of his success, Berry was a 30-year-old black man singing to a mostly white, teenage audience. Dubbed the "Eternal Teenager," Chuck Berry's knowledge of the pop market made it possible for him to break color barriers and play to an integrated audience.
In the 1960s and 1970s, Berry's music was the inspiration for such groups as the Beatles and the Rolling Stones. Berry had a number of comeback recordings and in 1972 had the first and only #1 Pop Chart hit of his career with "My Ding-A-Ling. 1986 fittingly saw him inducted into the Rock and Roll Hall of Fame as the very first inductee in history. As a tribute to his pervasiveness in the realm of rock, a clip of "Johnny B. Goode" was chosen played in the Voyager I spacecraft, proving Chuck Berry and his rock legacy are truly out of this world.
Requiescat in pace
Charles Edward Anderson Berry (October 18, 1926 – March 18, 2017)
Oremus pro invicem
~~
IN THE NAME OF GOD.
AMEN
####################################################################

Index Librorum Prohibitorum

I wear the chain I forged in life.

How short the list one could compile of those of whom it can be said that fame and money did not deprave?

IL MIGLIOR FABBRO​

 At Washington, capital city of the terminally self-absorbed, mortal man holds to fleeting, feeble and fallible opinion, God immutable fact.

~~~~~~~~~~~

The rich man ought not be taxed at all~~he ought be compelled to employ and train the poor man~~directly~~

~~In sunshine and in shadow~~I hold tight to the Republican view of time and money~~I write night and day~~yet~~while impecunious~~I am vastly overpaid~~in that taking pay to do what I love is unfair~~to my employer~~in a fair system~~under such circumstances~~I should pay him~~not he me~~I am far, far too old a man to be sexually confused~~praise Jesus~~but I am yet young enough to be politically confused~~is anyone not~~in an absolute sense~~I am a Catholic Royalist~~in a practical sense~~I am a Classical Liberal~~a Gaullist~~a Bonapartist~~an American Nationalist  Republican~~in either sense~~my head is soon for the chopping block~~to hasten my interlude with Madame La Guillotine~~I write without fear~and without favor of~any man~~

~~

Finis Origine Pendet…

The escape commences…

~~

September, 1957

~~

Saint Jane Frances de Chantal Catholic parochial school, called, by anyone of any background, simply: "Chan~al," a place where, of an autumn day in 1957, school,  for me,  began and ended in the first convening of the first grade in which a tiny nun, one Sister Dom Bosco, appeared before me, just behind the window appearing at far left of this photograph, and piped out this: "I may be small, but so then, is the Atom Bomb."

~~

My determination to escape school commenced immediately on hearing about this Atom Bomb business and took 16 dicey and arduous years to finally accomplish.~~

~~

Non Sibi

The escape continues…

~~

September, 1966

~~

The Cathedral Latin School

~~

Finis Origine Pendet~

 ~~Κύριε ἐλέησον~~

~The Original Angry Bird~~The Catholic University of America Screaming Red Cardinal Mascot~~

~~EX LIBRIS~~

~~THEOS EK MĒCHANĒS~~

Monday, 10th Aout,~Anno Domini Nostri Iesu Christi, 2020


Website: http://johndanielbegg.wordpress.com

http://www.linkedin.com/profile/view?id=122865699&trk=tab_pro

http://www.facebook.com/JohnDanielBeggPublicAffairs
http://www.tumblr.com/blog/theoldsoldiershome1952

http://www.facebook.com/john.begg.33

http://www.pinterest.com/johnbegg33/boards/

http://independent.academia.edu/johnbegg/Papers?s=nav#add

http://www.stumbleupon.com/stumbler/jtdbegg

Tweets: @jtdbegg

http://www.linkedin.com/profile/view?id=122865699&trk=hb_tab_pro_top

"Jean-Marie Le Pen is a friend. He is dangerous for the political set because he's the only one who's sincere. He says out loud what many people think deep down, and what the politicians refrain from saying because they are either too demagogic or too chicken. Le Pen, with all his faults and qualities, is probably the only one who thinks about the interests of France before his own."~~
French actor~~Alain Delon




CONCEPT OF THE CATHOLIC AND ROYAL ARMY OF AMERICA (CRAA)

The Catholic University of America

Seal of The Catholic University of America

Motto~~Deus Lux Mea Est~~

The escape concludes…

~~

The Catholic University Of America, Washington, District of Columbia.

~~

1976, Anno Domini Nostri Iesu Christi.

~~

Acta Est Fabula.

~~

Deus Vult.

~~Our Ubiquitous Presence~~

The Queen~~

Our Ruler now 68 years on~~

Simply the best President we could ever hope to have~~


​Oremus pro invicem

Amen

Amen