I quote here from the Times of India of this day and I thank that paper for a well done story of the madness now visited on Kabal and the entire sad nation of the Afgan people, now left abandoned by the Americans.
I will contine to quote from The Times of India until noted I here cease to quote.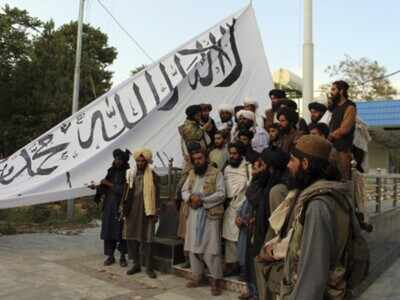 Taliban fighters raising their flag at the Ghazni provincial governor's house.
Picture credit (AP)WASHINGTON: American leaders and strategists raged against each other in a bitter blame game over the weekend as US global reputation geo-political equities went up in flames following the fall of Kabul to the Taliban.

In scenes evocative of the ignominious US exit from Saigon in 1975, American officials shredded and burned classified documents at the US Embassy in Kabul before they were bundled onto Chinook military helicopters for evacuation, even as Taliban fighters moved into the Afghan capital and the country's President Ashraf Ghani fled after the Biden administration pulled the plug on his fragile government.
Recrimination, anger, and shame coursed through the US political discourse as President Joe Biden blamed his predecessor Donald Trump for the fiasco, and Trump, in turn, berated Biden and Democrats for what experts said was one of the greatest US intelligence failures ever.
READ ALSOAfghanistan President Ashraf Ghani flees, Taliban set to declare Islamic emirateKabul fell to the Taliban in a swift and seemingly bloodless takeover on Sunday as President Ashraf Ghani took flight to Tajikistan, leaving a small band of political representatives to complete the handover of Afghanistan's final frontier to the advancing forces that had captured most of the
American military planners had conjectured that Kabul would fall within months, if not weeks. But as it turned out it took just days and hours for the Afghan capital to fall before the Taliban's lightning advance as they converged on Kabul from all across the country.
Biden himself had said on July 8 that there's going to be "no circumstance where you see people being lifted off the roof of an embassy of the United States from Afghanistan…The Taliban overrunning everything and owning the whole country is highly unlikely." Yet, that is precisely what is happening just 24 hours after US intelligence officials suggested Kabul would be able to withstand Taliban advance for 30 to 90 days.
Afghan President Ashraf Ghani's gig was up the moment Biden said on Saturday that the onus was on the Afghan government and its military to stem the Taliban advance and US officials indicated the President ordering some 5000 US troops back into Kabul was to help evacuate US government personnel, citizens, and US allies, not to help Afghan forces fight the advancing Taliban.
"When I came to office, I inherited a deal cut by my predecessor—which he invited the Taliban to discuss at Camp David on the eve of 9/11 of 2019—that left the Taliban in the strongest position militarily since 2001 and imposed a May 1, 2021 deadline on U.S. Forces. Shortly before he left office, he also drew U.S. Forces down to a bare minimum of 2,500. Therefore, when I became President, I faced a choice—follow through on the deal, with a brief extension to get our Forces and our allies' Forces out safely, or ramp up our presence and send more American troops to fight once again in another country's civil conflict," Biden said in a statement on Saturday, implicitly blaming Trump for the debacle, while explaining that "One more year, or five more years, of U.S. military presence, would not have made a difference if the Afghan military cannot or will not hold its own country."
"I was the fourth President to preside over an American troop presence in Afghanistan—two Republicans, two Democrats. I would not, and will not, pass this war onto a fifth," he added.
Trump and his allies pounced on the fiasco to denounce Biden as weak and vacillating, particularly after the US President ordered American troops back into Kabul after withdrawing them days earlier even before US officials and citizens had been fully evacuated.
Discerning analysts saw both Democratic and Republican administrations responsible for the American ignominy. "President Biden bears responsibility for making this decision, but there's no question President Trump, his administration, Secretary Pompeo, they also bear very significant responsibility for this. They walked down this path of legitimizing the Taliban," said Liz Cheney, a Republican lawmaker, and daughter of former vice-president Dick Cheney.
Some commentators apportioned the blame also to Presidents Obama and Bush, lamenting that the US should have exited Afghanistan soon after it killed Osama bin Laden and should have never gotten into the business of nation-building.
I here cease to quote from the Times of India this day and I thank that paper for this informative article.
~~~~~~~~~~~~~~~~~~~~~~~~~~~~~~~~~~~~~~~~~~~~~
IL MIGLIOR FABBRO
At Washington, capital city of the terminally self-absorbed, mortal man holds to fleeting, feeble and fallible opinion, God immutable fact.

~~
It is my assessment that America is dying inside, being eaten away by the horror of the collapse of the middle orders, the attendant societal and religious values and customs of those orders and the ubiquity of war making for dubious purpose.
~~
The rich man ought not be taxed at all~~he ought be compelled to employ and train the poor man~~directly~~personally.

~~The principal need in America today is~~financial and industrial De-Globalization~~to facilitate the promotion of the possibility for the average man to get and keep a good job with good benefits paid by the employer~~as was done not very long ago.~~~~Bene Nati, Bene Vestiti, Et Mediocriter Docti~~~~~La crema y nata~~~~~Artista de la conquista~~ In sunshine and in shadow~~I hold tight to the Republican view of time and money~~I write night and day~~yet~~while impecunious~~I am vastly overpaid~~in that taking pay to do what I love is unfair~~to my employer~~in a fair system~~under such circumstances~~I should pay him~~not he me~~I am far, far too old a man to be sexually confused~~praise Jesus~~but I am yet young enough to be politically confused~~is anyone not~~in an absolute sense~~I am a Catholic Royalist~~in a practical sense~~I am a Classical Liberal~~a Gaullist~~a Bonapartist~~an American Nationalist Republican~~in either sense~~my head is soon for the chopping block~~to hasten my interlude with Madame La Guillotine~~I write without fear~and without favor of~any man. ~~ Finis Origine Pendet… The escape commences… ~~ September, 1957 ~~ Saint Jane Frances de Chantal Catholic parochial school, called, by anyone of any background, simply: "Chan~al," a place where, of an autumn day in 1957, school, for me, began and ended in the first convening of the first grade in which a tiny nun, one Sister Dom Bosco, appeared before me, just behind the window appearing at far left of this photograph, and piped out this: "I may be small, but so then, is the Atom Bomb."~~My determination to escape school commenced immediately on hearing about this Atom Bomb business and took 16 dicey and arduous years to finally accomplish.~~~~ Non SibiThe declaration that:"I am here to save mankind," means that:"I am here to rule mankind." The escape continues… ~~ September, 1966 ~~ The Cathedral Latin School ~~ Finis Origine Pendet ~~Κύριε ἐλέησον~~Rejoice and Glad!!~~Amen~~ ~The Original Angry Bird~~The Catholic University of America Screaming Red Cardinal Mascot~~ ~~EX LIBRIS~~ ~~ THEOS EK MĒCHANĒS ~~ 4th of July, The American Independence Day, Sunday , Anno Domini Nostri Iesu Christi, the 2016th Website: http://johndanielbegg.wordpress.comhttp://www.linkedin.com/profile/view?id=122865699&trk=tab_pro http://www.facebook.com/JohnDanielBeggPublicAffairs http://www.tumblr.com/blog/theoldsoldiershome1952http://www.facebook.com/john.begg.33http://www.pinterest.com/johnbegg33/boards/http://independent.academia.edu/johnbegg/Papers?s=nav#addhttp://www.stumbleupon.com/stumbler/jtdbeggTweets: @jtdbegg http://www.linkedin.com/profile/view?id=122865699&trk=hb_tab_pro_top "Jean-Marie Le Pen is a friend. He is dangerous for the political set because he's the only one who's sincere. He says out loud what many people think deep down, and what the politicians refrain from saying because they are either too demagogic or too chicken. Le Pen, with all his faults and qualities, is probably the only one who thinks about the interests of France before his own."~~ Alain Delon~~Actor CONCEPT OF THE CATHOLIC AND ROYAL ARMY OF AMERICA (CRAA) THE CATHOLIC UNIVERSITY OF AMERICASeal of The Catholic University of America Motto:~~Deus Lux Mea Est~~Acta Est FabulaThe escape concludes…The Catholic University Of America, Washington, District of Columbia.~~1976, Anno Domini Nostri Iesu Christi. "Who first seduc'd them to that foul revolt? Th' infernal Serpent; he it was, whose guile Stird up with Envy and Revenge, deceiv'd The Mother of Mankind" ~~ Paradise Lost Book One Verse 35 Our Mr Milton https://johndanielbegg.com/2016/03/09/the-infernal-serpent-he-it-was-whose-guile–stirred-up-with-envy-and-revenge-deceived-the-mother-of-mankindActa Est Fabula.~~Deus Vult.
Ne plus ultra
~~Our Ubiquitous Presence
~~
Our Queen
~~
Our Queen now 69 years on
~~
Simply the best President we could ever hope to have.